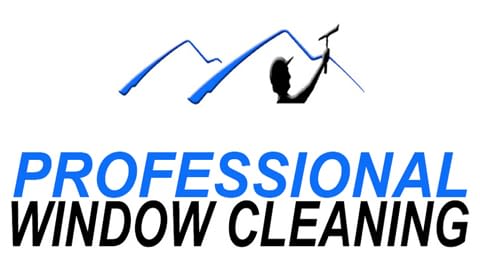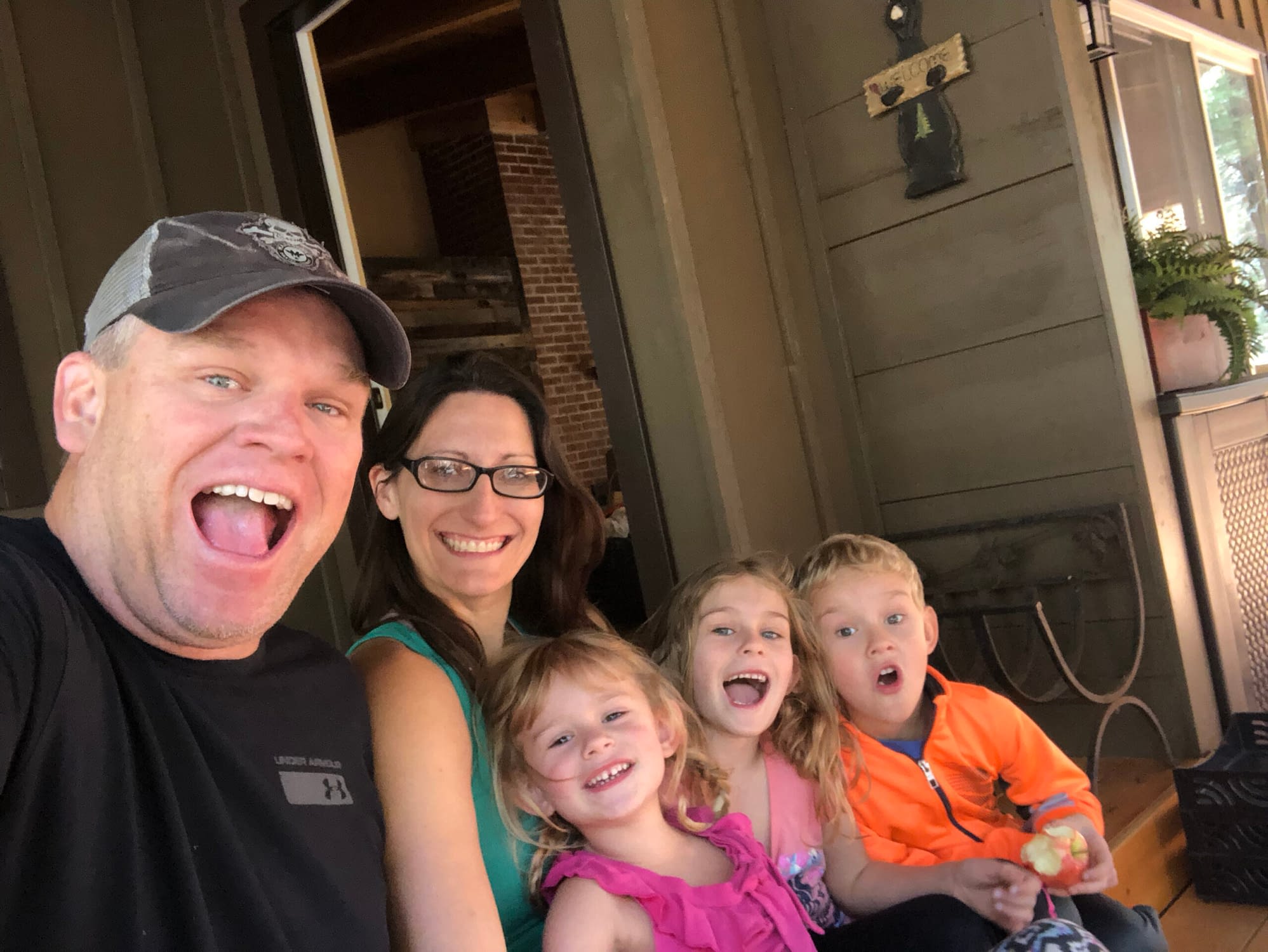 -David Kaminski & Family 🙂
Select Your City / Location
We've been cleaning Residential, Commercial and High Rise Windows since 1999!  Call us today and let us make your home or business shine!
COMMERCIAL / HIGH RISE WINDOW CLEANERS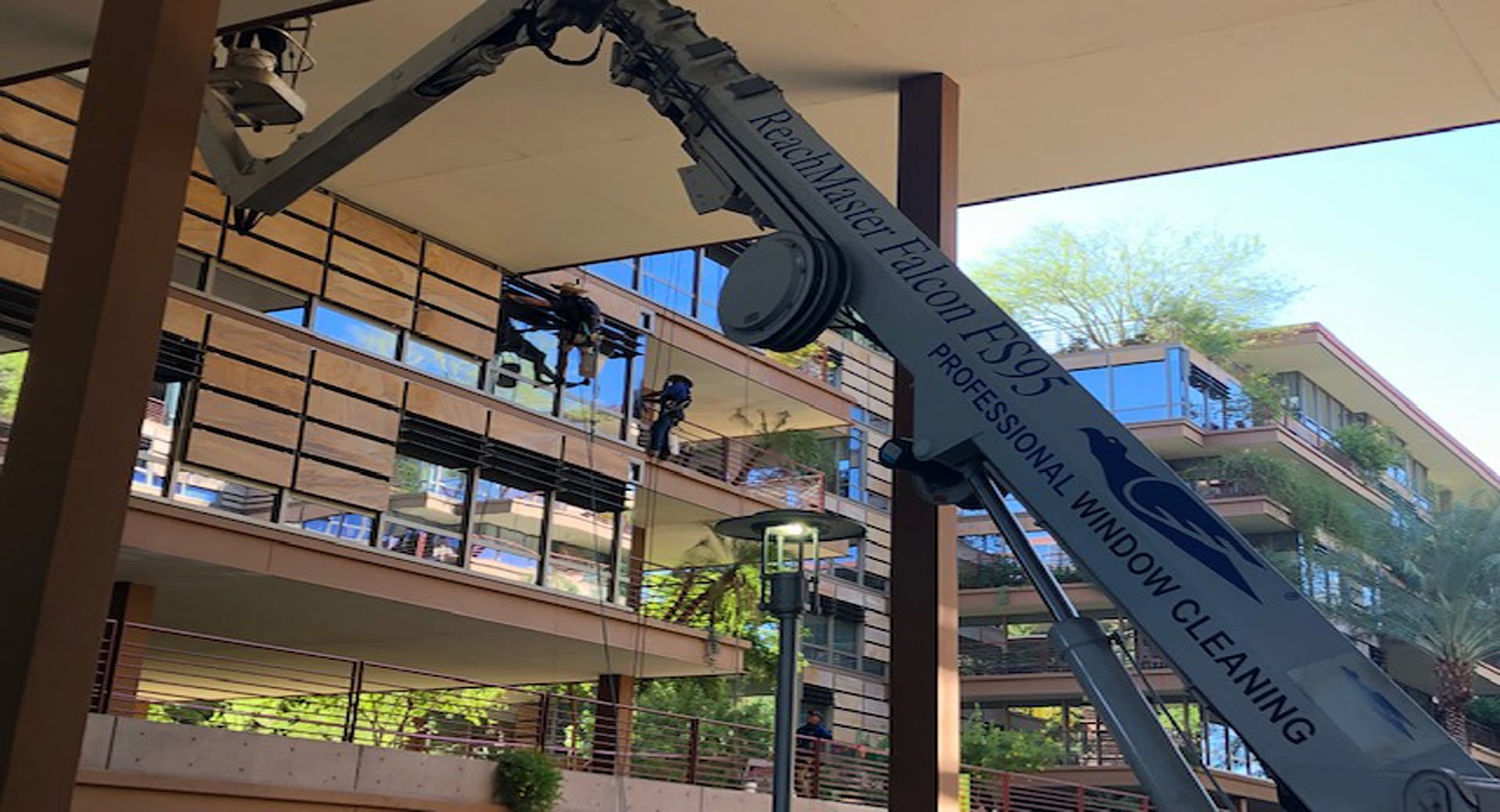 RESIDENTIAL WINDOW CLEANERS
How much should I pay for window cleaning?
How much to pay for window washing is a great question, especially if you are planning on getting your windows clean soon.  Before you go out and get 5 quotes from reputable window cleaners, consider a few things.  Calling a bunch of companies may be counterproductive.  Meaning, most companies are withing $5 to $20 of each other.  They all charge pretty much the same.  If you do get a quote that is far cheaper than the other companies, then beware!  This company probably does not pay for Workers Compensation Insurance, or may not even have General Liability insurance either.  So check your contractors!
Most window cleaners charge between $40-$75 per hour.  This may sound super expensive, but these guys are fast, efficient, and know how to get the job done the right way.  Trust me, if you try it yourself, it will take you all day, or more.  And sadly, you may fall off your ladder and end up in the ER.  This is way more expensive than hiring a quality window cleaning company to come do the work for you.
All in all, window cleaning is typically charged between $7 per pane of glass and $12 per pane of glass depending on location, and how difficult the windows are to access.
Thanks to Finicky Window Cleaning for providing this great information! You can visit them here: https://finickywindowcleaning.com/
When should windows be washed?
This is a two-part question.  First what time of day should they be washed or What season should they be washed?
Time of day is easy enough to answer first, so here it goes.  Obviously you want the sun up so you can see what you are doing, but you don;t want the sun blazing on the windows you are cleaning.  You start in the morning, and wash the south side first, then the west side, the north side, and then finish on the east side after the sun has moved past those windows.  This will prevent the sun from drying up all your soapy water before you squeegee it.
Now, what time of year should windows be washed is another great question.  Spring and Fall is a great idea.  Spring cleaning feels great to get you home all nice and clean, while fall is also good to wash away all the summer rain that has accumulated on your windows.
Professional Window Cleaning companies always work away from the sun.  They will clean the east side before the sun comes up, then work around the building or house.
What is the best outside window cleaner?
There are so many window cleaners for your home, so how do you know which one is best?  There are rinse away window cleaning solutions, pure water solutions, using Windex to clean your windows, or using a squeegee to clean your windows.  Well, here is the answer.  A 20 year professional says hands down, use a squeegee as the best outside window cleaner.  It will allow you to scrub off all the dirt, then evenly wipe away all the soap from the glass.  It will literally leave nothing on your glass but a wonderful shine!
If you can't grasp the squeegee and you leave marks or streaks, try using a pure-water system and spot free rinse to wash your windows on your home or business.  Simpole makes an amazing pure water system for cleaning windows.
This knowledge was provided to you from Nick at Century Pyramid Building Maintenance in Oakland CA.
What is the best professional squeegee for cleaning windows?
If you are looking for the best professional squeegee to use to get your windows washed, then here is some good information for you.  First off, professional window cleaners use many different types of squeegees for different situations.
The best squeegees for commercial window cleaning and chosen by more window cleaners is the Sorbo Squeegee.  These squeegees are durable, tough, don't bend easily, and come in many lengths from 6inches all the way up to 48 inches long!  They can also be dropped many times over any it won't diminish the integrity of the squeegee.
The best squeegees for residential window washing is probably Ettore or Unger squeegees.  They are both very similar, but Unger is a little more light-weight when compared to Ettore.  Ettore was the original squeegee, so you can never go wrong when choosing this brand.
For your home
What should you use to clean windows?
It is very important to choose the right equipment when it comes to cleaning windows to wash them properly.
To clean windows, you should use:
* 2.5 gallons of tap water
* Detergent - Dish soap - Dawn preferably
* 1 dl Vinegar - If you have hard water spots
* Wet cloth or Sponge - Use to wet or scrub the windows with
* Window wiper - A squeegee to clean the glass
* Smooth and dry cloth - To wipe up excess water from frames or window sills
Cold water and vinegar are the perfect mixtures for washing windows because it leaves no stains or traces. Put detergent or dish washing detergent in water, and this mixture removes stubborn and greasy stains from windows.
Use a sponge to soap the windows in detail, and later remove the soap with a window wiper. Use a window wiper as this is the most important thing when it comes to cleaning windows. You will use it to collect excess water and wash the window in the best way.
Finish cleaning the window with a dry cloth to wipe the edges and bottom of the window. Use a dry cotton cloth because it does not leave marks on the windows.
What tools do professional window cleaners use?
Getting into the window cleaning business is fairly simple, and does not require a lot of capital to get started.  Here are the basic tools needed to be a professional window cleaner:
A quality squeegee
Razor blade
Swivel T-Bar for wetting windows
Extendable poles
Mirco-fiber towels
Soap (Dawn dish soap)
A tool belt to hold your equipment
Ladders - 6ft A-Frame ladder, 28ft extension ladder
You can buy all these items above, except for the ladders, at ABC Window Cleaning Supply right in Littleton, CO.
The ladders, you can go to Ace Hardware and purchase the ones you will need.
How much do high rise window washers make?
High-rise window cleaners are some of the most skilled window cleaners in the world.  You would think they make lots of money since they have nerves of steel and can scale large skyscrapers all while making it look easy!
Most people's knees would buckle standing on the edge of a 50 story building, but these guys simply hook up their climbing gear and hop right over the edge.
Here is a price range for what these highly skilled technicians make per hour.  A green-horn will most likely start out making about $16 per hour.  These guys or gals must have already mastered the skill of cleaning a window before they attempt to get on the side of a building.  It is counter-productive trying to learn how to navigate descenders, rope-grabs, safety lines, and main lines all while trying to learn the skill of cleaning a window at the same time.
Some of these window washers get paid per drop on these skyscrapers.  this means they get paid a certain dollar amount for each time they start at the top and get to the ground.  This will motivate them to work a little faster.
Veteran high rise window cleaners will get paid anywhere from $18 to $35 per hour depending on which cities they work and where the competition is stiff.  Less competition and lower cost of living areas and cities will typically pay lower on the scale, where higher competition and higher cost of living would get paid higher on this scale.  Our Denver window cleaners are pretty much right in the middle of this scale.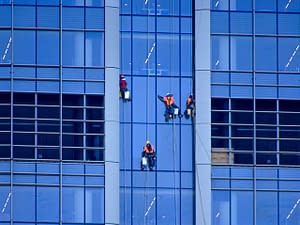 Can you clean windows with just water?
Windows can definitely be cleaned with water, but not every kind of water will suffice. Most pure water cleaners use de-ionized (DI) water to clean windows as opposed to distilled water. DI water is purer than distilled water because it goes through a more rigorous process to achieve its purity.
You never want to use "hard water", like tap water or bottled spring water to clean windows because these kinds of water -especially tap water- include additives, chemicals, and contaminants that will leave behind spots or streaks when they dry.
Hard waters contain dissolved solids such as salts, minerals, and even some metals. These trace elements are called ions. Some water sources also contain chemical additives like fluoride and chlorine. Generally speaking, when cleaning windows you want to use the purest water possible, otherwise, you are really just smearing them.
Pure water window cleaners put a lot of effort into ensuring that the water they use to clean your windows is of the highest quality and purity.
What water is best for cleaning windows?
Windows can definitely be cleaned with water, but not every kind of water will suffice. Most pure water cleaners use de-ionized (DI) water to clean windows as opposed to distilled water. DI water is purer than distilled water because it goes through a more rigorous process to achieve its purity.
You never want to use "hard water", like tap water or bottled spring water to clean windows because of these kinds of water.  Bottled water includes additives, chemicals, and contaminants that will leave behind spots or streaks when they dry.
Hard waters contain dissolved solids such as salts, minerals, and even some metals. These trace elements are called ions. Some water sources also contain chemical additives like fluoride and chlorine. Generally speaking, when cleaning windows you want to use the purest water possible, otherwise, you are really just smearing them.
Pure water window cleaners put a lot of effort into ensuring that the water they use to clean your windows is of the highest quality and purity.
This valuable information was provided to us from Mike at Master Pro Clean in Bend, Oregon.
How much can you make as a window cleaner?
Whether or not you're aware of this, you can make between $40 to $70 an hour just by cleaning windows. Whether as a main job or as a side job, this is great for earning extra profit. The window washing business is actually quite profitable, but it's not something a lot of people have knowledge about. Businesses and companies pay an adequate amount of money to get their windows cleaned because a dirty window can easily drive potential customers and clients away. When you have the right cleanliness and exterior for your business, this attracts customers- and it's what makes window cleaning significant. In reality, the average annual salary is typically about $60,000 just by cleaning windows.
You'll also be surprised to know that approximately 80 percent of homeowners refuse to clean their own windows and hire someone else to do it for them. Whether it's windows of businesses or homes, window cleaning is clearly significant and pays an adequate amount just to get it done.
Some of our Denver window washers get paid extremely well during the busy Spring to the Fall season, however during the winter months, work is much slower.
What water is best for cleaning windows?
Window cleaning may seem like a simple thing, but to get the best results it can be a little more complex. Different types of water can actually make your windows look more or less clean. This is because different types of water have different levels of mineral content. The minerals in the water can leave streaks on the windows, making them look less clean.
The best type of water for cleaning windows is soft water. This is due to the fact that soft water does not have the same amount of minerals as hard water. Another mineral-free option for cleaning your windows is distilled water.
Soft water and distilled water are the best water options to clean your windows. Also if you are diluting your window cleaner, you still want to use soft or distilled water. Your windows will look much cleaner and will have fewer streaks when washed with soft or distilled water.
Thanks to Purity Cleaning Systems in Utah for answering this common question for us!
How do Professionals Clean Gutters?
Perhaps you have been wondering how do professionals clean gutters. The professionals use the right kind of tools in order to provide a good and thorough cleaning for all parts of your gutters. They often use vacuums that are industrial-strength in order to suck up the debris, leaves and dirt that tend to notoriously gather in gutters. Also, it is common for them to use amazingly powerful spay washers in order to blast away anything that may be clogging certain areas of the gutters that the industrial vacuum is not able to dislodge. Then your gutters should be in good working order for another season.
In addition, when it comes to the matter of how do professionals clean gutters, the professionals make sure that they gather up all the debris that may have fallen to the ground. They place it in trash bags or they may have special disposal containers. They haul away the debris that they have gathered as part of their cleaning service, which means that there will be no mess left behind for you to have to deal with. Furthermore, they often scrub the interior as well as the exterior of your gutters to make them look pristine. Thus, this helps to remove black marks, mold, algae or moss.
Click here to learn more about our Gutter Cleaning Services in Denver.
Can you wash windows on a sunny day?
When planning to clean your windows, you should always check the weather forecast first. You probably wondering why and what does the weather has to do with cleaning your windows. Sunny days seem like a good moment to get your exteriors cleaned, but actually, according to the experts, this type of weather makes window cleaning a lot harder. During very sunny and hot days, your windows' glass dries quicker than usual, causing persistent smears and marks that will be much harder to wipe in the future.
Professional window cleaners suggest washing your exteriors on a cloudy day. On days like this, you'll have more time to scrub and sponge your windows before the cleaning solution dries and leave those streaks. You'll have cleaner windows with half the effort. So, during a sunny day, we recommend you to just go outside, grab a refreshing drink, sit back, relax enjoying the sun, and leave the cleaning duties for a cloudier day.
Thanks to Ambassador Window Cleaning for providing us this valuable information! Visit them by clicking here: Awc.cc
Affordable Window Cleaning Services – Get Prices & Schedule Today
Awarded Top Window Cleaner in Colorado

Voted Best Window Washing Company in Denver by A5Local

#1 Rated Residential Window Cleaning Business

Most Trusted Commercial Window Cleaners

Experts in The Commercial Cleaning Industry

Professional Gutter & Downspout Cleaning Services

Local, Trusted Professional Window Cleaning Services

Home Helping Services – Ceiling Fans, Mirrors + Window Tracks

Commercial Cleaning – Roof Washing, Building Washing + Pressure Washing

Most Qualified Window Cleaning Near Me Company in Town
We have been cleaning windows since 1999. Allow us to make your home or business windows look like new again!
You probably want to hire the best company if you will like to achieve the best looking windows in the city! We are the right choice if you will like to find the best window cleaning services in Denver. We have been in the field for many years. We have seen different designs of windows come and go. We will utilize our wide experience and ensure we work on your windows till they are spotlessly clean. As a company we put the needs of our customers at the forefront. We are ready to clean your windows even if they have developed hard stains till they are clean. You will think the windows are new after we work on them.
We charge at fair rates on all services which we offer. There are no hidden charges which you will be surprised to realize later. We are straightforward in our dealings. In order to be fair in our rates, we will take different factors into consideration before we can decide on a certain rate. For example, we will check on the height of the windows. If the windows will require a lot of climbing before our professionals can clean them, we will charge you a bit high. The number of windows will also determine the rates.
We schedule very fast when it comes to your home window washing or commercial window cleaning needs. You can fill our online contact form and we will get back to you as soon as possible. We offer our customers warranties on the cleaning services. If you will not be fully satisfied with the services which we will offer you, you can as well ask us to repeat the procedure till you are fully satisfied. All our professional window cleaners are friendly. They will always relate with you in a professional way.
Residential Window Cleaning Denver
Residential Window Washing in Denver and Why You Should Hire A Professional Service
Windows play an important role in your home. Not only it allows the beautiful sunlight and refreshing air in if you want to, but it can serve as a protection from the elements while allowing you to picture out the outside world. Yet, there are times that your windows need a bit of love and care.
Importance Of Window Washing
One of the main reasons why you would want to clean your windows is so that it allows a view of the outside world. I mean, what's the point of having windows if you can't clearly see the outside? You might as well have walls in place instead of windows.
Also, window cleaning can greatly increase the lifespan of your windows. For you, this means that you will be saving money as you don't have to replace or repair the window glass and other parts as often. Now you know why residential window cleaning is important, but should you hire a professional?
Why Hire A Professional?
Our Experience – one of the biggest reasons to hire Professional Window Cleaning is so you can tap into their experience. Let's face it, in any situation, the more experienced someone is doing at something, the better will be the outcome. In other words, a professional will always do a better job at cleaning the windows than you will ever do.
Professional and Proper Tools – when you hire a professional, it's their responsibility to bring along the tools and equipment for a superb window cleaning. This means you don't have to spend money purchasing tools and equipment. Let's not forget about the time you will have to spend on learning how to use these tools. Save Money – most homeowners think they can save money by doing the window cleaning themselves. However, what happens if you damage the windows when you clean them? Or, what about if accidents happen? These are only a few of the many things that could go wrong when you clean your windows, and these will cost you more than what you pay when you hire professionals. Don't try to complicate things by doing things yourself. Just hire the professionals from the start so you can tap into the many advantages a specialist offer, like experience, proper tools and equipment and saving money.
Commercial Window Cleaning Denver
Your business is important to you, so it is important to us. We understand that our professional window cleaners are an integral part of a well-maintained building which is critical to the success of your business. We have many years of experience working with both large and small companies, to keep their buildings looking great, all year round with regularly scheduled window cleaning. Whether you're a property lessor, single building owner, or a nationwide organization we can handle all your commercial window cleaning requirements.
Our company philosophy is based on quality workmanship, superior customer service, efficiency and safety. We take ownership of your requirements and your goals are our number one priority. We value each client and look forward to offering you our first class window cleaning services.
We're constantly reviewing our procedures and methods to make sure that were using the most up-to-date window cleaning equipment and technology available. Commercial window cleaning can be potentially hazardous but you can be rest assured that we're fully compliant with all current safety and health legislation.
With the latest window cleaning equipment, committed management, fully trained staff and an impeccable safety record, we guarantee to find a cost-effective solution to any window cleaning task. All commercial window cleaning is carried out to the highest standard by our highly trained, friendly and helpful window cleaners.
Our highly skilled and experienced window cleaners will offer you a cost-effective service that's delivered to the highest standards without fail and will minimize interference with your business operations. So whether you've an industrial complex, a retail operation or an office building, we'll make you shine and allow you to attend to business.
Through our experience, expertise and commitment, we have been able establish relationships with our clients that will last a lifetime! Call us today for a FREE no obligation window and property inspection and a customized service proposal.
High Rise Window Cleaning Denver
We are committed to providing our customers with the highest quality high rise window cleaning service in the area. Our five-star service includes: experienced, and OSHA certified employees, high quality cleaning solutions, friendly cleaners, and high safety standards. We are also fully insured so you have peace of mind knowing your windows are being taken care of without any risk. In addition to this, we are dedicated to achieving results that get noticed, which means no streaks or water spots left behind. The only thing you'll see when we're finished cleaning your windows is the beautiful view outside.
If you're looking for a company to clean your windows no matter how many floors your building has, then look no further. Our crew is experienced with skyscrapers of all sizes. They use the highest quality tools and safety equipment to climb up as high as they are needed, whether that's the 30th floor or the 5th floor. Even if your building has floor-to-ceiling windows it won't pose as a challenge to our cleaners, as they have the knowledge and experience that's necessary to leave even the largest pieces of glass spotless.
Sky Scraper Window Cleaners
Our Denver skyscrapers have become icons in the city's landscape, and if you want yours to be prominently displayed, then our window cleaning services are absolutely necessary. We can come by on a daily, weekly, bi-weekly, or monthly basis to get every window on your building shining like new again. We can even come by at the time that you request, whether this is in the morning or the afternoon. You'll find that our flexible service is the most comprehensive in the area and that we focus on the smallest of details to ensure incredible results. After we're finished you'll see the difference in the appearance, taking your skyscraper from dirty with spots to clean, beautiful, and professional.
Gutter Cleaning Denver
We all wish to live in a clean and greener environment, and that is what makes all of us happy. There are a huge number of options that can be employed to make sure we get the best living atmosphere. Proper drainage and a gutter system is a must for keeping your house clean and safe from all kinds of issues.
Maintenance or the gutter cleaning service is one of the key aspects that have to be given a lot of preferences. If you want to make sure about the best-living facilities in the residential and commercial buildings, then maintenance is a must and without it, you should not expect any good results. For the best life and looks of the building and environment, proper cleaning and maintenance of the gutters is always necessary.
Cleaning of the house includes a number of things, and they include windows, crawlspace, roof, basements, gutters and many others. You can clean all others but very few can think of gutter cleaning, therefore, it's really a difficult thing to do and if it's not done in a proper manner then it will be really messed up in every manner and can create a lot of troubles for you. With the help of the gutters, you can clean the rainwater that is collected. Basically, the gutter is a canal which is installed for collecting rain and other waste waters and then they will be diverted into the drains.
If you are taking proper care of the gutters, then it might affect the construction of the building also the drains will get clogged if proper maintenance is not taken. Therefore, today it is very much essential for every person to take proper precaution and clean your gutters so that you don't have to regret at a later stage.
These are some of the basic things that we all should remember and follow so that we don't end up in troubling ourselves in the future.
Window Washers Denver
Making sure that your home's windows are dazzling clean is an excellent way to make your home more attractive. However, window cleaning often involves a lot of risks, and thus, is important to dedicate the task to window cleaning professionals in Denver to avoid such risks involved. Windows cleaning professionals will ensure that your windows remain sparkling clean and functional. Nonetheless, here are some invaluable reasons as to why you should consider hiring professional window washers Denver. It Saves You Time The process of cleaning windows takes a lot of time, particularly when you are doing it by yourself. But, when you let professionals handle the cleaning, it will take a very short period to have your windows sparkling clean. Therefore, if you want to save time when it comes to cleaning windows, then consider hiring Denver window cleaning professionals. We Use Extreme Caution Cleaning windows basically involves a lot of risks especially when your house is more than one level because it involves the use of ladders for you to reach high windows. Therefore, it's prudent to consider dedicating all tasks of window cleaning to professional window cleaners in Denver to avoid injuries. Professional cleaners are trained on how to navigate the ladder and use other cleaning equipment to make sure your windows look scintillating clean. We Can Identify Problems With Your Windows Hiring professional window washers in Denver will not only clean your windows clean but also ensure that your windows are functioning well. Professionals are capable of identifying any problem that may be causing improper functioning of your window. This is a bonus.
Window Cleaning Prices
Window cleaning services are among the top services offered by a professional cleaning company. Each company will have a specific price range for their cleaning services. So, what determines the window cleaning prices? Factors that Determine the Cost of Window Cleaning • The size of the window pane. • The number of windows available. • The ease of access to the window. • How dirty are the windows? Will there be the need for removing stain or paint? • Do you need the windows to be cleaned outside alone, or inside alone? Do you need the windows to be cleaned on both sides? Other factors like the type of cleaning can also affect the prices. What is the Average Cost of Cleaning Windows? Most of the window cleaning companies will charge their services for every glass pane. Typically, you can expect to pay anywhere between $2 and $7 for each pane. Other companies will charge their cleaning services per hour. A sliding glass door can cost between $3 and $9 per door. Hiring a company to clean the windows of an entire house can cost you about $270. This cost can include the doors and screens, depending on the company you hire.
Best Way to Clean Windows
Are you looking for the best way to clean windows? Are you tired of using the same method with varied results? Well you should try doing so with a squeegee. It's Simple and Fast Washing windows with a squeegee will leave the glass clear and steak-free. I bet you'll never go back to the spray bottle and paper towels again. Why would you if a squeegee does the job faster and with greater results? All you need is a good squeegee (you can buy on at the local home center or full service hardware store), a scrubber, a couple of lint-free rags, some soap and a large bucket. That's it. Here's how to go about it:
Add 2 – 4 gallons of water in a bucket followed by a tea-spoon of dish washing liquid.
Dip the squeegee in the water then in a fluid motion sweep it back and forth across the window
Direct excess soapy water towards the uncleaned portion of the window
Repeat the "fanning" technique then finish off by dabbing the window with a rag.
Window Cleaning Tips
Cleaning windows is not nearly as easy as some of us think. From time to time, the input of a professional is required, and the advice or service offered depends on the type of project involved(window type, architectural style of buildings or even window height). Going about this process the right way ensures that you get impeccable results that stand the test of time Here are some top window cleaning tips from our experts: Avoid the Sun Direct sunlight is not exactly the type of weather in which to clean your windows. Avoid it because most of the time, the window will streak as a result of drying way faster than recommended. When it is sunny, handle windows that face way from the sun and move over to others when its position shifts. Handling Exterior Windows You expect the outside to be dirtier than the inside because of direct exposure to the elements. This is why you are encouraged to start off the cleaning process by use of a hose pipe whose role is to get rid of grime and grease on the surface of your panes. Afterwards, you can make use of the right brushes and detergents. Use Child and Pet-friendly Detergents Your kids or pets are always running around, touching everything and generally causing mayhem. They are not averse to tasting whatever they come across, and it would be risky if they put the remnants of a washing detergent in their mouths. There are various harmless commercial detergents at your disposal and you should grab the least harmful brands. Change the Water Often Professionals pour away water whenever they rinse a window once or two times. This is because they want windows to come off clean and show no streaks. Use specific waters on a single or two occasions and get a fresh bucket for a great result.
Window Cleaners
We are a Denver window cleaning company first and foremost.  Window cleaners are either individuals or agencies who have over time specialized in their field of work, gathering experience and acquiring the legal permission to carry out cleaning in both residential and commercial enterprises. While some professionals prefer to collect assignments through referrals, others choose to put up adverts ad undergo regular tendering processes. Modern cleaners work towards ridding glass and panes of dirt, grime and the general build up of materials as a result of human activity and adverse weather conditions. They make use of brushes ,detergents, scrubbers and squeegees in a bid to get the job done to the satisfaction of the customer. Some methods used are manual, but automation and technology has been slowly seeping into this part of the industry. This equipment is handy, especially in buildings whose panes are situated at a height or have windows whose materials of design are sophisticated. Care is taken to ensure safety of the cleaner at all times.
Home Window Washing Service
For efficient home window cleaning service, you require a company that delivers only top-end services. We have cleaned many and different types of homes for many years, and we, therefore, understand what you want. Unlike other companies that only offer basic window cleaning services, we have all that it takes to deliver all-time cleaning needs. Our staff has extensive skills, and only attends to your windows with the state of the art equipment. And since we are aware of the importance of our environment, we only use cleaning agents and tools that are environmentally-friendly. Apart from the proper training, all our staffs are insured since window cleaning can be a risky task. You never know when an accident will occur particularly when the windows are high from the ground, not forgetting that their delicate nature calls for specialized care to avoid accidents. This way, we are able to ensure appropriate liability in the event of an accident. If you, therefore, want prompt and professional services that will leave you 100 percent guaranteed, then don't hesitate to contact us today.
Residential Window Cleaning Cost
Perhaps one of the best ways to keep home window cleaning cost to a bare minimum is to consider the use of existing products in your home. For example, many people have discovered that white vinegar when mixed with warm water provides excellent results when it comes to cleaning windows. Sometimes the simplest products can produce the best results. Most importantly, homeowners can save a considerable amount of money by taking this approach to cleaning windows and other parts of the home. Never before in history has it been more affordable and easier to clean windows in even the largest home with the simplest products. In addition to cleaning windows, vinegar can also be used to clean floors and counter tops. Vinegar effectively fights against mold and mildew and can reduce the amount of bacteria that exists on a counter top or in other parts of the home. Keeping your home looking great and smelling fresh has never been easier thanks to today's modern and innovative home remedies that are widely available using the simplest products imaginable.
Serving Zip Codes: 80202, 80203, 80204, 80205, 80209, 80210, 80211, 80214, 80215, 80219, 80221, 80223, 80226, 80227, 80229, 80232, 80233, 80234, 80241, 80260, 80264