A Sneak Peak into Our Professional Window Washing Process
Our window washing services start off with our professionals removing all screens from your windows. After analyzing the amount of dirt on each screen and the material it's made from, we make a decision between moping or dry wiping. Our next step involves the actual washing. Here, we split our team into groups, with some cleaners working from the inside while others tend to the outside at the same time. At the initial phase, we are basically just wetting
your windows with a washing solution and a soft washer.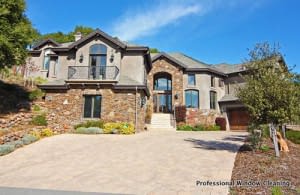 Next, we use a scrubber or razor scrapper to thoroughly wipe dirt off the window. We are basically looking to get rid of dust, bugs, paint, flower pollen or any other kind of stubborn dirt attached to the surface. After the scraping process, a cleaner will for the second time wet your window using a scrubber washer. We then carefully wipe the window along the edges in order to get it ready for the squeegee.
At this point, we will use our squeegee to get rid of all the traces of moisture on the panes, with a special focus on the edges, where moisture tends to linger.We then use a wet towel or sponge to dry your sills.
Finally, we will reinstate our screens and put any moved furniture or appliances back in their place.
If you have an office or a commercial complex, then our process is entirely different.  We are the industry's leader when it comes to commercial window washing.  See our commercial window cleaning page for more details.